---
Description
This easy to make recipe is paleo, keto and gluten-free and satisfies the bagel craving.  Make it in just 25 minutes.
---
Scale
Ingredients
4

eggs

1/4 cup

apple cider vinegar

1 Tablespoon

raw honey

2 tablespoon

flax seed, freshly ground

2 cups

almond flour

(#ad)

1/4 cup

finely shredded coconut

1 teaspoon

baking soda
Dried onion flakes, sesame seeds, or poppy seeds to garnish
Olive oil for greasing the pan
---
Instructions
Preheat oven to 375F.  Grease baking sheet with olive oil and coat with almond flour

(#ad)

or coconut. Set aside.
Crack eggs into medium bowl.  Add vinegar, honey, and flax seed.  Beat for one minute with a fork, until eggs are light and the mixture has somewhat thickened.
In a separate bowl, mix almond flour

(#ad)

, coconut, and baking soda.  Make a well in the center of the flour mixture.  Pour in egg mixture.  Mix with a spoon until all the flour is moist.  The batter will begin to rise immediately.  Once the batter is uniformly moist, stop mixing.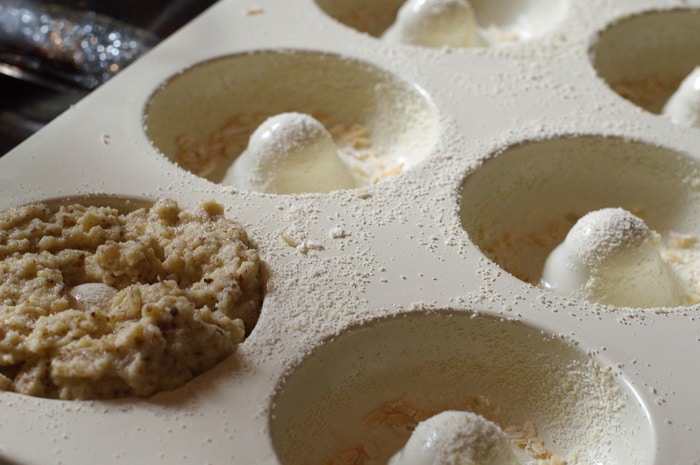 If you are using a doughnut pan, sprinkle the cups of the doughnut pan with onion flakes, poppy seeds, or sesame seeds.  Spoon the batter into the hollow spreading the dough around the circle lightly.  Be careful not to compress the dough.
If you are using a baking sheet: Spread the in a circle on the baking sheet, in 5 even piles.  Dampen your finger.  Use your finger to press a hole in the center of each bagel pile.  Sprinkle the top of the bagel with onion flakes or seeds.  Without the doughnut pan to limit the bagel spread and force it upward, bagels will spread sideways.  Leave room between each bagel pile to allow for side ways expansion.
Place in the oven and bake for 17 minutes.
Remove from the oven and cool on a rack for 15 minutes.  Bagels will continue baking as they cool.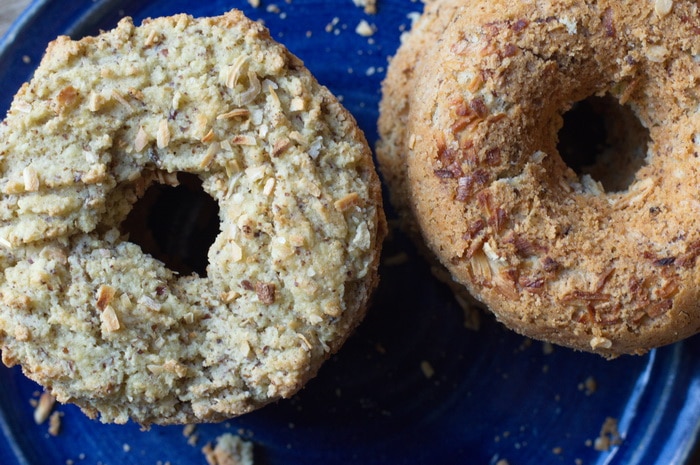 Remove the bagels from the doughnut pan using a plastic knife to pry the sides of the bagel away from the pan.  Complete the cooling on a rack.
Serve with butter, cream cheese, smoked salmon, and capers.
---
Notes
If you are baking on a baking sheet, line the baking sheet with parchment paper.  Grease and flour the parchment paper to prevent sticking.
---
Keywords: Gluten-free, Bagel, Breakfast Bread.