Welcome to Day Two of the Ordinary Herbs, Extraordinary Vitality Workshop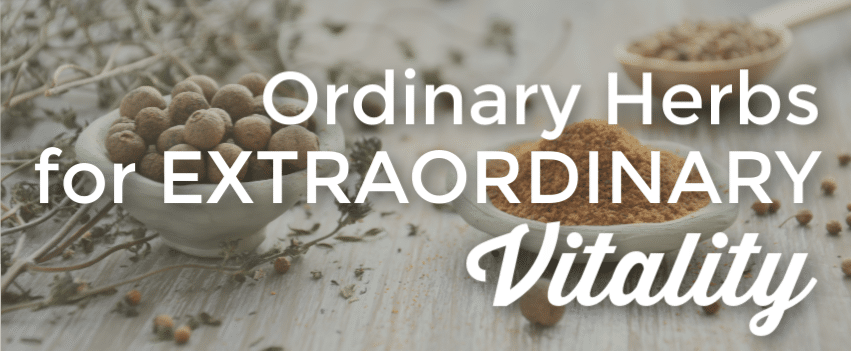 In video #1, we talked about a blueprint for using herbs and spices intentionally for greater vitality.  I shared my special technique to create more herbal awesomeness in my own family.  This is going to immediately help you to use herbs and spices more strategically in your own family.  So if you haven't seen that video, go back and watch it now – and then come back to this one. You can watch that HERE.
Now in video 2, I'm going to teach you how to intentionally use herbs every single day, by using herbs in your meal planning.  And more importantly, this will help you confidently incorporate herbs and spices intentionally into your health and wellness strategies, without increasing your time pressure.  You see adding herbs and spices to your meal is one of the fastest and most efficient ways to quickly improve your health, relieve digestive problems, gain more energy, sleep better, and lift your mood.
So if you're a mom that wants to add herbs to their family's wellness strategies, but you aren't sure how you can intentionally use herbs every day, or you're a growing herbalist looking to add more medicinal herbs strategically into your life, you'll discover how moms and herbalists like you and me can intentionally use herbs every day – and why it's critical you focus on this right now.
Watch Today's Video
Grab the workbook for this special workshop here.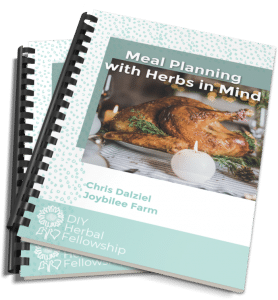 (click the button below to get your copy of this free workbook and recipe guide delivered directly to your personal inbox.)
(If the above link doesn't work try this one.)
Other Video's in the Workshop
Coming up in the next video:
In the next lesson I'm going to show you my entire blueprint for upgrading your health and wellness using the time you already have and also how you can grow your herbal knowledge like our ancestors did through hands on, DIY herbalism.  Growing your knowledge of herbs by making herbal remedies and using herbs and spices every day will grow your knowledge of herbs and your herbal intuition faster than you thought possible.  It's quite miraculous, really.  Join me in lesson 3 and find out more.
Download the recipes from today's video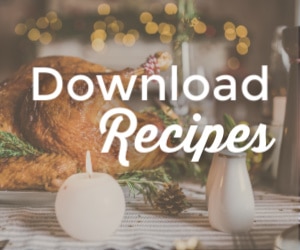 Your turn
Leave a comment and let me know how many people you are expecting for your next Festive Meal.  Which herbs or spices will you use in your recipes?  Will  you use one of the recipes in the ebook?
(I'm going to read every comment and I'll respond to as many as I can.)