The spinach is in perfect readiness and so are the chives.  I made a batch of fresh goat cheese and the Artisan Bread was in the fridge.  Running out of time to cook dinner so I whipped up this quick meal – Florentine Bread — and paired it with a Spring greens salad.  I think you'll like it.
Artisan Bread dough (if you've been following the blog you already have some in the fridge.)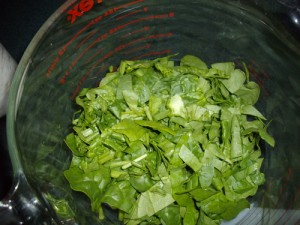 3 cups soft goat cheese (you can substitute cream cheese, cottage cheese or ricotta)
3 cups fresh spinach, chopped fine
1/2 cup fresh chives, chopped
1/2 tsp. sea salt
1/4 tsp. black pepper, or to taste

Combine cheese, spinach, chives, salt and pepper in a bowl and mix well.  Roll out 1 1/2 lbs of artisan bread dough, about the size of a large grapefruit.  Roll it about 1/4 inch thick – 8 inches wide by 12 inches long.  Spread dough with cheese mixture leaving edges clean.  Roll up cinnamon bun fashion, seal the edge.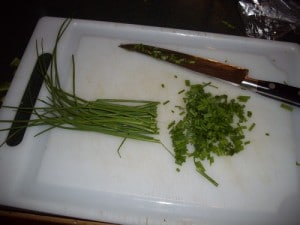 Place seam side down on well greased cookie sheet.  Brush top with beaten egg white.  Sprinkle with sunflower seeds, sesame seeds or flax seeds.  Cover and allow to rise until doubled in bulk, about 30 min.
Preheat oven to 400F.  Bake loaf for 25 minutes, or until golden brown.  Remove from oven, allow to sit for 10 minutes.  Slice while still warm into 2 inch slices.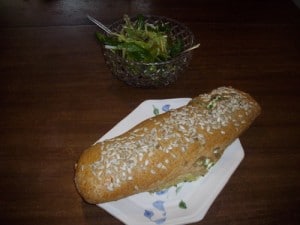 Serve with a garden-fresh salad.
Serves 4 to 6, tastes great cold, too.
For more recipes and tips on establishing your own food storage get your free copy of my eBook.