Fighting infection naturally
MRSA infections are frustrating. Last week, I had put some cow's milk in my coffee and within a few hours my scalp was covered in hives – about 8 of them – an allergic reaction to the milk. The hives burst a few days later and mostly went away, except for 1. That one turned into a boil and an MSRA infection. Normally, applying tea tree essential oil to the infection would be enough to take care of it overnight, but my house has been sick lately, so my immune system is a bit over-worked.
My friend Amy recently posted her method of dealing with MRSA infections – applying heat and tea tree oil to the site of infection. I wanted to elaborate on this because I think that this is a very useful homestead skill to know and use. Also it's a natural healing remedy that is accessible to everyone, even those without herbal education.
First let's look at what an MRSA infection is:
An MRSA infection is an antibiotic resistant staph infection that usually appears on the skin. Staph bacteria are present on your body normally and it's only if you get overwhelmed that it becomes problematic. Normally your body can deal with it using normal immune responses. The following is for skin infections. Should the area redden and swell or your condition worsen, please see a doctor immediately. MRSA infections can lead to death and organ damage. However, if caught early this method can help you overcome.
MRSA infection presents as a skin infection with redness, puffiness and sometimes an area of broken skin in the centre, much like a spider bite but without the itching. Under the broken skin are often puss, inflammation, and infection. Antibiotic ointment is ineffective in dealing with the infection. The infection, if left untreated can persist for weeks, it can move to surrounding tissue, and it can spread to others. A chronic MRSA infection can spread, with scabbing, and scarring, while it runs down your immune system. Antibiotics won't take it away. But natural remedies like heat, and essential oils are very effective in supporting your immune system to fight it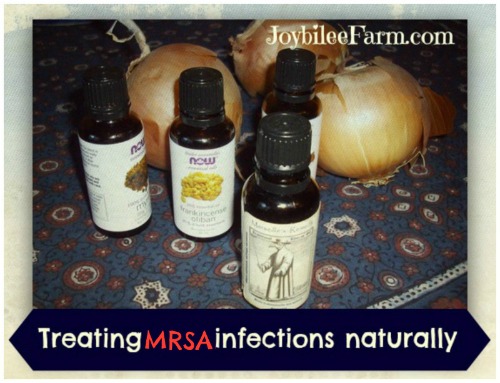 .
The antibiotic resistant bacteria that cause MRSA infections are present on the skin and in the environment. It is only when the body's immune defences are compromised or the number of bacteria in the environment too numerous, that the body succumbs to infection. But once the infection takes hold, it is very difficult, by normal OTC or prescription means to eradicate. It often leaves a low grade infection that flares up the next time the immune system is compromised. This low grade infection is highly contagious and likely to be passed to others in your environment.
How to Manage an MRSA infection naturally:
Heat
Essential Oil
Drawing poultice
Hand expression
Cleansing
Essential Oil
Applying Heat:
Heat draws blood flow to the area and can begin to destroy the harmful bacteria. Use a damp cloth or heated flax bag to increase the heat to the area. If the infected spot can be soaked in a tub of water, or bowl of water, that's the best way to increase the heat to the area. Adding a cup of salt or magnesium chloride to the soaking water can increase the effectiveness of this. This is especially effective if the infection involves your hands or fingers.
If it's on a place where this is difficult to soak, like your head, or shoulders, use a damp cloth, that is kept hot with a heated flax bag. Keep the heat for at least 20 minutes, replacing the heated cloth as necessary. Your aim is to increase the heat and circulation to the infected area.
Essential oils to use with an MRSA infection:
Several essential oils are effective in combating infection. Choose one or a combination as you prefer. Use a single drop applied to the infection or if you have sensitive skin, put 1 drop of essential oil in 1 tbsp of coconut oil or olive oil. Apply a small portion of the mixture to the wound site.
Amy suggested tea tree essential oil, and I concur with that. Tea Tree is very effective in dealing with infection. Tea Tree essential oil is antibiotic, antiseptic, and anti-fungal. I've used it on my homestead to effectively combat strep boils, staph infections, and mastitis in my goats (when rubbed on the udder it is one of the few treatments that permeate the inside of the mammary glands to combat infection.) It's the first oil that I grab when dealing with MSRA infections. Bacteria cannot develop immunity to it.
Peppermint essential oil is another antimicrobial essential oil. It has a cooling effect, so keep this in mind if you intend to use it near your face. It can make your eyes water. Peppermint eo should be diluted in a carrier oil like olive oil or coconut oil before applying directly to your skin.
Lavender essential oil is antibiotic, anti-fungal, and uplifting and relaxing, provided that you are not allergic to it. It can be applied directly on the infection or diluted in a first aid balm or carrier oil before application.

Clove essential oil is the essential oil used by dentists to numb your gums before injection of Novocaine during dental work. It is a strong antimicrobial and is strongly scented, almost overpowering. It is one of the ingredients in Marseilles Remedy-5 thieves' essential oil (clove, lemon, eucalyptus or lavender, rosemary, and cinnamon eo)

Rosemary essential oil is one of the more expensive essential oils in this list. It is antiviral, antimicrobial, and warming. It is useful when there is pain involved as, like peppermint, it acts as an anti-inflammatory as well.
Marseilles Remedy – 5 thieves essential oil blend – This is a propriety essential oil blend that is available from several companies under different names. During the plagues of the middle ages some thieves robbed the bodies of the dead taking their jewellery and valuables. The thieves kept from getting sick by washing their bodies with a vinegar that had herbs and spices steeped in it. The herbs and spices commonly used were cinnamon, lavender, cloves, lemon peels, and rosemary branches. Today these spices, along with eucalyptus are combined as essential oils and sold as propriety essential oil blends. The basic value is that this blend is antimicrobial, antiviral, and anti-fungal – making it useful in the treatment of MRSA infections.
Both are reputable online businesses that offer organic herbs, spices, and essential oils at reasonable prices.
Drawing poultice for an MRSA infection
A drawing poultice acts by bringing moist heat to your skin, along with an agent that creates an irritation to increase the blood flow to the area. As the blood flow increases it pushes the infection to the surface of your skin, often bringing the boil to a head, where it can be drawn out of your skin with pressure. Alternatively, the heat and irritation helps your own white blood cells fight the infection without breaking the skin.
You've probably heard of mustard plasters, flax plasters, and bread poultices. These are examples of poultices. A drawing poultice can be made from plantain leaves, a slice of onion, or pine pitch to draw infection out of deep tissue and bring it to the surface of the skin where it can be expressed with heat and pressure, or where your white blood cells can attack it.
Amy recommended using a slice of onion. This was new to me so I gave it a try. As I was chopping onions to put in the crock pot for dinner, I sliced off the top of the onion. This gave me a rounded closed sliced that was just big enough to anchor in place with a couple of plaster bandages. Within a few minutes of taping this over the hard MRSA nodule in my shoulder, the area started heating up, a natural response to the onion juice in the slice. The treatment needs to be reapplied every 12 hours until the infection is drawn out.
This area was the left over from a mosquito bite from 2011. It periodically swells to a tender boil and weeps, leaving behind a small, hard nodule in the muscle. It is in a spot that is hard to get any kind of plaster on. I periodically apply tea tree or lavender essential oil to try to shrink the spot. Last month I applied Marseilles remedy twice a day for a week and it burst, leaving behind the present, hard nodule. Since it didn't seem to be improving beyond that, it was worth trying Amy's onion poultice, to see if the last remnant of infection can be drawn out.
Hand expression of an MRSA infection
Sometimes, with the application of antibiotic essential oil and heat, your body is able to fight the infection on its own, and this step is unnecessary.
Once the infection has been drawn to a head and you think you can apply a bit of pressure to express the infective tissue, apply heat once more.
Apply tea tree oil or the essential oil of your choice – this is to stop the spread of the infection to surrounding tissue.
Take a clean disposable paper towel or several layers of tissue, and put it over the spot to catch the infective material. You don't want to spread the infection – so don't use a handkerchief for this. Clean hands and clean technique are a must here.
Cover the wound and squeeze with your thumb and forefinger applying steady pressure to the base of the infection. This should move the infective material to the wound opening. If it doesn't it may not be ready to be expressed. If not, apply the poultice with heat for 4 more hours and try again.
If a wound is already made in the spot, gently, firm, squeezing should cause the puss to come out. Catch it all in the tissue, dispose of it immediately.
Cleansing the area and applying essential oil
Wipe the area with a clean, hot cloth and apply tea tree oil once again. Bandage if necessary. You don't want to weep the infectious material onto clothing or furniture.
Note: Frequent hand washing is effective in keeping MRSA infections from spreading through your household. If you have an active MRSA infection in your home, be sure to wipe door knobs, light switch plates, and taps with vinegar-citrus cleaner or thieves vinegar regularly to keep the infection from spreading.

When you are ready to immerse yourself in natural healing sign up for the Intermediate Herbal Course with the Herbal Academy of New England. This is a comprehensive on-line, work at your own pace, course that will give you confidence to make your own herbal medicine cabinet to heal your family and enhance your health.
Note: This post is not to diagnose or treat any illness. Please do your own due diligence. Consult your own naturopath or doctor to determine the best action in your personal circumstances.