Homemade root beer is a healthy alternative to commercial pop. When it's made with herbs, the old fashioned way, it is healthy, tonic, and energizing. Commercial root beer is full of high fructose corn syrup, chemicals and preservatives, as well as artificial flavors and color. You want to avoid these things in your healthy lifestyle. But sometimes you want to celebrate with a fizzy drink. Here's an inexpensive alternative that's high on the fun factor and on flavor, especially when you enlist the kids to help you make it. Plan to make it 3 days before you need it because it has to ferment to get bubbly.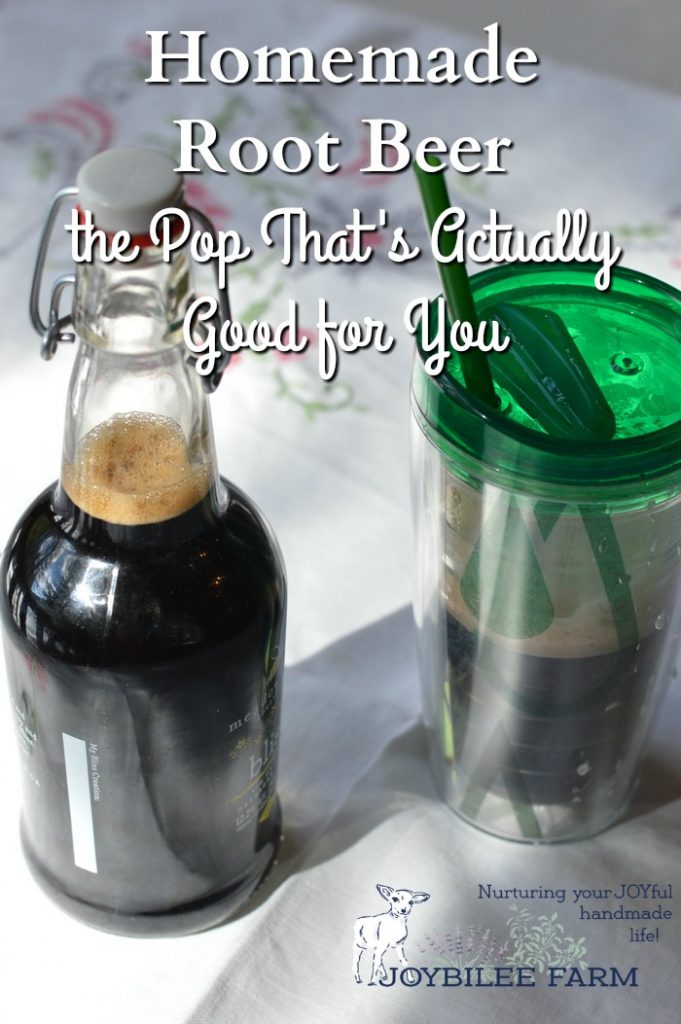 You'll need glass bottles to create the carbon fizz of commercial root beer. Glass is strong enough to seal in the bubbles until the root beer is ready to drink. Swing top bottles (like these) or crimp bottle caps will both work. The tin crimp caps are especially fun for children to seal, as they require a bottle capper (this is the one we use) to apply them securely to the top of the bottles. It can seem quite magical when you are popping the cap.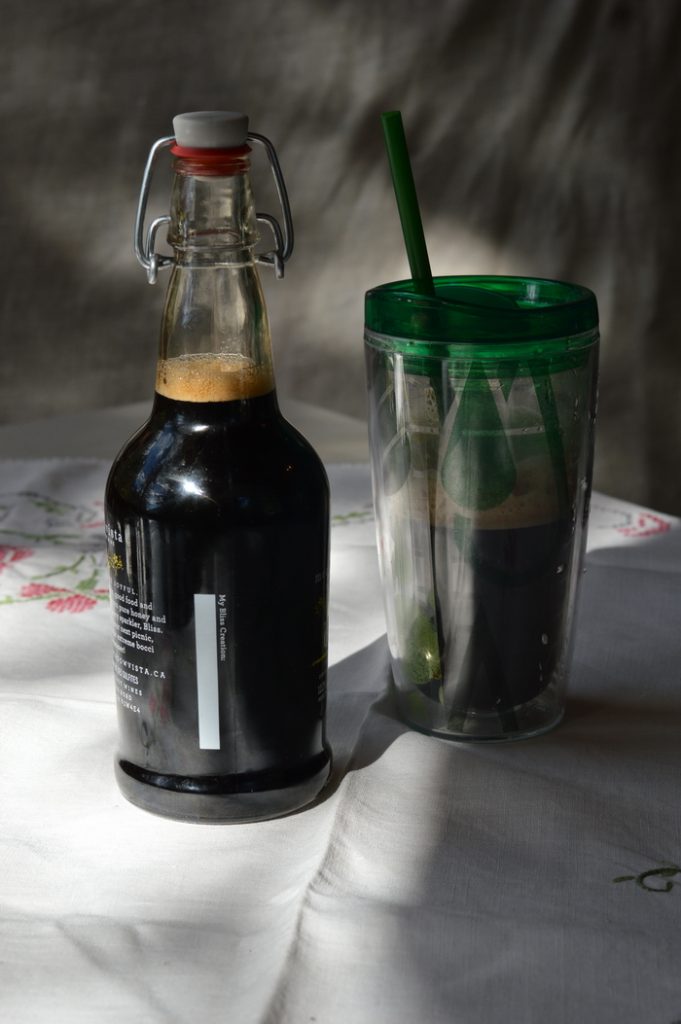 MY LATEST VIDEOS
Homemade Root Beer Recipe

Yield: 24 — 10 ounce bottles
Ingredients:
1/4 cup sassafras root bark
1/4 cup sarsaparilla root bark
1/4 cup black birch bark
3 1/2 c. sugar
2 gallons water
1/2 tsp. bread yeast
Instructions:
Place the sassafras, sarsaparilla, and birch in a 3 gallon stock pot. Add 2 gallons of water. Cover. Bring to a boil over medium heat. Turn the heat down and simmer the pot for 20 minutes. Turn off the heat. Allow the pan to cool to 100F. naturally. Strain the decoction.
Return the decoction to the pot. Dissolve the sugar in the water. Add the yeast. Stir well to dissolve the yeast. Bottle.
I have some vintage glass pop bottles from the PopShop — remember when you could take the glass bottles back and have them refilled? We wash the bottles well and rinse them. Then refill them. The kids love to fill and cap the bottles.
If you don't have a case of vintage glass pop bottles just get the swing top bottles. Home brew stores carry them. You can also get them on Amazon. These are reusable, so the investment is worth it. Use them for fizzy kombucha, too, and any home brew project.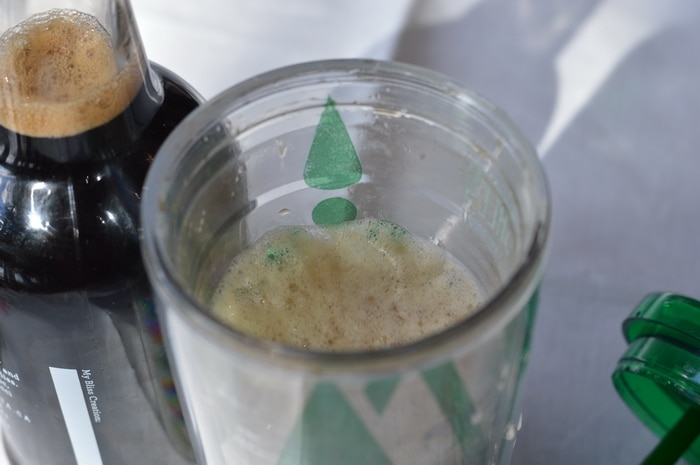 Storing your homemade root beer
Once your bottles are capped you need to store them somewhere to allow them to ferment. You'll want to check the bottles after 48 hours. Open one over top of the kitchen sink. And every 24 hours after that. When they are almost perfect — refrigerate immediately or place in a cooler with ice. The length of time it takes for homemade root beer to get the perfect fizz depends on your ambient temperatures.
Are they done yet?
They are done when tiny bubbles fizz in a glass when you pour it out of the bottle, and a slight foam rises on the top of the rootbeer in the glass. The yeast digests the sugar in the water and releases carbon dioxide — which bubbles up in the glass when the cap is removed. They are over-done if the liquid spurts like a volcano out of the bottle, when you uncap it.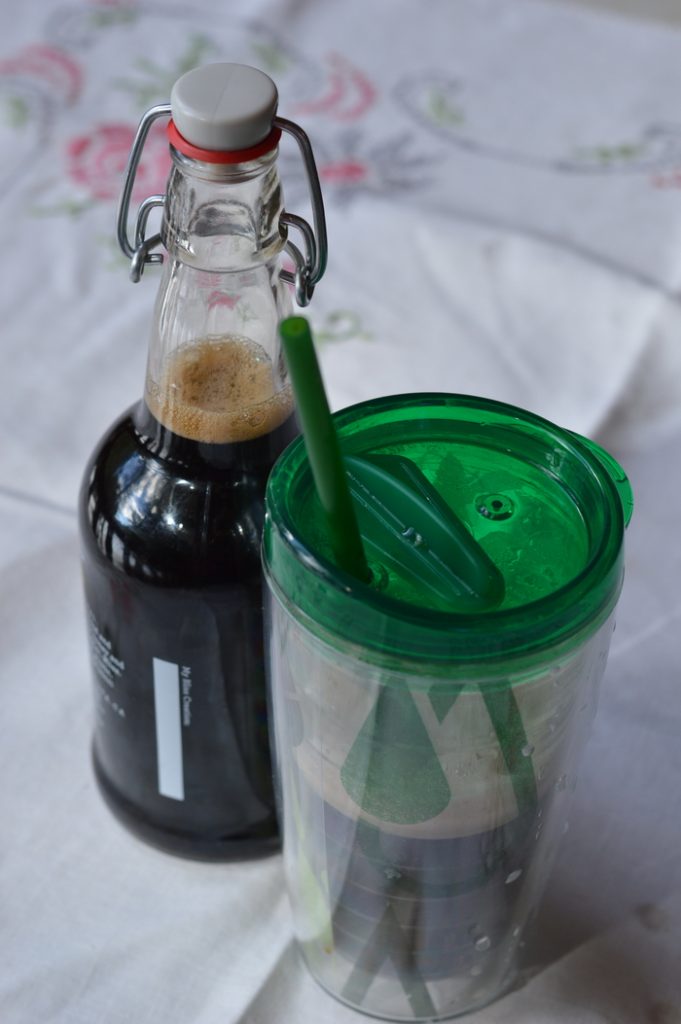 Health benefits of homemade root beer
Did you think that root beer could have health benefits? It was made commercially available by Quaker pharmacist Charles Hires, in the days when pharmacists worked exclusively with herbs. He was inspired by a root tea that was popular at the time. Hires was a temperance activist and offered his root beer as an alternative to spirited beverages, during the 1876 US Centennnial Exposition in Philedelphia. It was originally offered as a concentrate to soda fountains and drug stores. The businesses added water, sugar, and yeast to prepare it for sale. Today you can still purchase root beer extract, but today artificial flavours and colours replace the bark and roots of the original formula, with winter green being the predominant flavour.
The original recipe called for sassafras root, sarsaparilla root bark, birch bark and various other herbs and roots. So don't feel limited to the herbs in this recipe as you experiment with your own.
Sassafras (Sassafras albidum) is a tonic and blood purifying plant. The root bark is considered the most effective part of the plant. It is alterative, diaphoretic, diuretic, antiseptic, and warming. It is an aromatic carminative digestive and was originally the dominant flavor in root beer. Sassafras fell out of favor and is now considered carcinogenic in large quantities, however, there is a long history of use among indigenous tribes without ill effect.*
Sarsaparilla (Smilax sp.) is another tonic plant that supports the adrenals and the liver. It is an alterative, diuretic, and diaphoretic that helps pain and inflammation. The root is used.
Birch Bark (Betula fontinalis) is the wintergreen flavor that we associate with modern root beer. It is analgesic and anti-inflammatory, and useful for the pain in arthritis and rhuematic conditions. It is diuretic, antiseptic, and astringent, with high amounts of vitamin C. Both the bark and twigs can be used.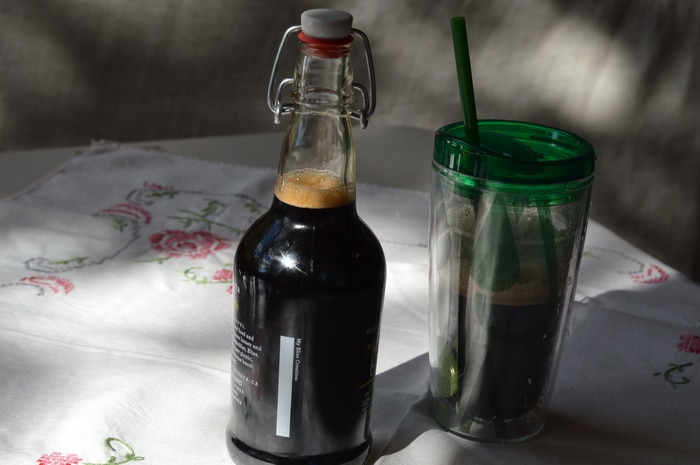 Homeschooling lessons from homemade root beer
This volcano-like eruption is quite impressive to any kids witnessing the event and homeschoolers can turn it into a science lesson — with microscope to observe the yeastie beasties and a discussion on the ideal conditions for fermentation, topped off with filling a balloon placed over the top of the bottle with carbon dioxide. Add a discussion of the carbon footprint of homemade rootbeer vs. the carbon footprint of store bought and you'll have a complete lesson plan.
Don't store the root beer bottles under a bed or on top of the fridge. Bottles sometimes explode, spewing the contents,which are under pressure. The mess is difficult to clean up (don't ask, but it would have made a great you-tube video). I store them behind the wood stove on the tile floor. Easy clean up and not too warm in the summertime since the woodstove is off.
It takes from 3 to 5 days for the bottles to ferment and the root beer to be ready. You can speed the process by putting the bottles in a warm place, or slow it down by putting the bottles in a cool place. Once the bottles are finished move them to the refrigerator or a cooler, to slow down the fermentation. Enjoy.
Other homemade pop recipes
You can also make Gingerale. Follow the above recipe but substitute 2 tbsp. grated fresh ginger and 2 tbsp. lemon zest, 2 tbsp. lemon juice, for the rootbeer herbs. Add to the boiled water. Strain out the lemon zest and ginger before filling bottles.
For cream soda, substitute 1/2 cup of crushed strawberries and raspberries, for the root beer herbs. Make a tea with the boiled water. Allow to cool and strain out the pulp. Add sugar and yeast and continue as for root beer.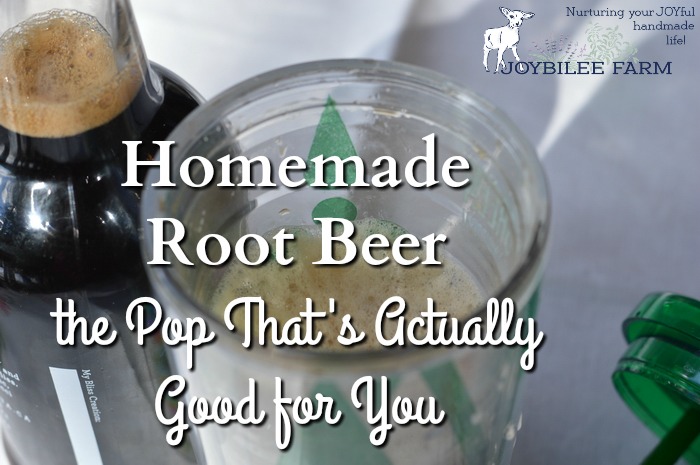 Go Deeper
If you want to explore this fun, family activity in greater depth "Homemade Rootbeer, Soda and Pop" gives the history of self-sufficient, non-alcoholic beverage (actually low alcoholic) making in America. It offers several recipes to make these bottled beverages at home. There are several homebrew recipes from Root beer to Raspberry shrug. This is a really fun activity to do with homeschoolers or grand children.
Cresswell recommends heavy, glass bottles with crimped or wired caps to prevent explosions in your homemade root beer. So after you've made a couple of batches of root beer at home with your kids, and experienced this delightful activity, consider investing in some heavy glass bottles with caps and a capper or a case of flip top bottles.
Homemade Root Beer, Soda & Pop
Another fantastic book that I have in my own library, is perfect if you'd like to explore herbal beverages in a deeper way. Stephen Harrod Buhner, Sacred and Herbal Healing Beers, the Secrets of Ancient Fermentation (Sirus Books, 1998) Buhner's explanation of the Safrole controversy is excellent.
You can also use a ginger bug instead of the bread yeast called for in this recipe. In that case substitute the bread yeast with 2 cups of the liquid from your ginger bug. So much fun, and you'll gain even more nutritional benefits as you add healthy probiotics to your fun and fizzy drinks.
Your Turn:
Have you made home made root beer? Please share your story.
Save
Save
Save
Save
Save
Save
Save