Joybilee Farm Latkes
Potatoes, apples, carrots, and squash are seasonal and plentiful at this time of year.  Many homesteaders have these foods in cold storage in their basements and root cellars.  Latkes are a satisfying main course for meatless Monday, or a laid-back breakfast through the winter, and they are inexpensive to make all winter, when these ingredients are seasonal.
Latkes or potato pancakes are a traditional meal for Chanukah, the Jewish Feast of Dedication.  At Chanukah they are richly deep-fried in oil.  They bring to mind the miracle of the Temple menorah that burned for 8 days on just one day's worth of purified olive oil.  But before I knew that, I was making potato pancakes for breakfast for my family since the first home-cooked meal on our honeymoon.  It's traditional for guests at Joybilee Farm to have at least one breakfast of potato pancakes during their visit.  When I make them for everyday, I fry them in a tbsp. of oil in a frying pan, browning each side till it's crispy and golden brown.  Although the ingredients are the same, the final product is entirely different.  Try them both deep fried or just fried in oil and see which way you like them best.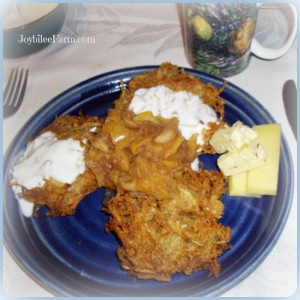 One couple from France that visited us, when they tasted the potato pancakes, said, "You make them just like my grandmother makes them." A high compliment indeed!
I've tried making these omitting the potatoes and just using fresh zucchini or fresh carrots or fresh butternut squash and they aren't at all the same.  They don't hold together in the same way without potatoes.  Sometimes, in winter, I will add grated apples in the place of the grated zucchini, along with a pinch of cinnamon.  Those are good, too, and make use of things I have plentifully in my cold storage.
They are a good, satisfying, and seasonal food that will make comforting memories for your family, whether you serve them for a holiday meal or for an everyday breakfast or lunch.
Potato Pancakes/ Latkes
(serves 6 people as a meal or 8 people as a side dish)
Ingredients:
5 medium Russet, Yukon gold, or Red Pontiac potatoes washed and grated (not peeled)
1 cup of grated zucchini or butternut squash or carrots
1 cup of grated cheddar cheese
1 medium onion, finely diced
2 large eggs, lightly beaten
½ cup of all-purpose flour
½ tsp. Celtic salt
Coconut oil for frying (don't fry in liquid oils like olive oil or grapeseed oil.  These are damaged by high heat.)
Method:
When I make these, I grate them by hand using a box grater, but feel free to use the coarse plate on your food processor.  Don't use the finest grate, or they will be too wet and gummy. (Just sayin')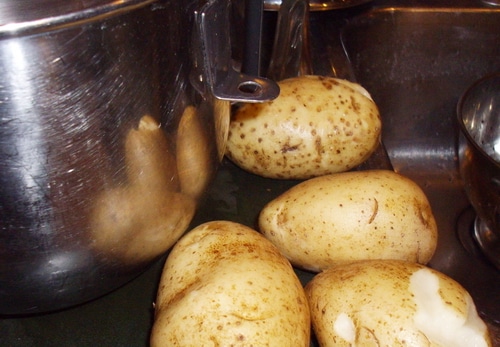 Grate potatoes.  Place in colander and rinse under cold water until the water stops being cloudy.  This rinses all the starch from the potatoes.  Allow to drain, or if you are in hurry, squeeze the grated potatoes until no more liquid easily comes from the potatoes.  Put the potatoes in a bowl.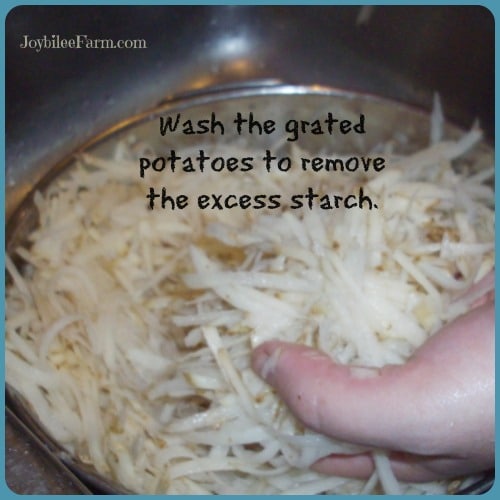 Add grated squash or carrots, onions, and eggs.  Mix well.  Add cheese, flour, and salt.  Mix. Mixture should no longer be dripping with liquid.  If it is, add a tbsp. more flour.
Heat 1 tbsp. of coconut oil in a frying pan over medium heat.  You don't need a lot of oil, just enough to crisply fry the potatoes on each side.
Once oil is hot enough to make a few drops of water dance on its surface, put spoonfuls of the latkes mixture in the frying pan.  Press each round of potatoes with the bottom of your spatula to flatten the latkes.  Fry on one side till golden brown.  Flip the latkes and fry the other side until golden brown.  Be careful not to get burned by the sizzling oil.  Wear an oven mitt to do this, so you don't get splashed and burned.  Drain on a wire rack, placed over a baking sheet in a warm oven.
Add additional oil to the frying pan, 1 tbsp. at a time, between frying latkes.  Always allow oil to get hot before adding new latkes to the pan.
You can cook 3 or 4 latkes at a time in your pan.  The latkes are about 4 inches around.   If you are cooking them for dinner, make them all ahead of time and keep them warm in the oven.  If you are serving them for breakfast (it's my favorite breakfast!) serve them hot right off the griddle, and keep making them until everyone is satisfied.
To deep fry:
Alternatively you can deep fry them in 2 inches of coconut oil.  If you choose to deep fry them be sure that the oil is hot or they will dry out and become tough, before they are golden brown.  When deep frying, the oil is the correct temperature if it sputters when the potato is added.  Don't allow the oil to smoke or you will damage it.  Fry 4 to 5 latkes at a time, turning when the first side is golden brown.   They will float on the surface of the oil.    Remove from the oil and drain on paper towels.
Serve hot, with apple sauce and sour cream or yogourt.  For dinner, add a side salad and ice cream or cheesecake for dessert. If you are serving them for breakfast or lunch – latkes and applesauce are enough to satisfy.
My latkes story:
Now let me tell you about the first time I ever had "potato pancakes." I went to Sunday school at Renfrew Baptist church, in Vancouver, BC (Canada).  Cecil Savage was the pastor then.  I was 12, and in grade 7.  I was alone a lot.  My parents were separated, and my mom was living with a man, who wasn't her husband.  We were poor, and they were both alcoholics.  Most kids from good homes, on the moral side of society, didn't associate with kids with my background, so I didn't have other girls over to play.  But I had two friends – Lillian and Diane whom I met at Pioneer Girls and who attended this Sunday School, so I loved to go to Sunday School and see them.  My mother and her boyfriend were often drinking at a friend's house on Saturday night and weren't home on Sunday morning.  I walked the two blocks to church alone.
One sunny Sunday in spring of 1971, my friend, Diane invited me home for lunch, after church.  Her dad was an officer in the Salvation Army and so didn't go to church with his daughter and I had never met him.  When we arrived at her home, her dad was busy grating potatoes and invited Diane and I to help.  Diane had a younger brother, and he and her mom weren't home that day.
Her dad chopped onions and Diane, and I grated more potatoes and cheddar cheese.  It was the first time I'd ever helped to cook anything.  Her dad fried them all up and served up the sour cream and apple sauce.  I remember that there was a lot of laughing and talking around the table.  We ate lunch around a white, spackle, aluminum, dinette table, on vinyl, padded, steel chairs (very 60's second hand style).  I don't remember the dishes, or the table setting.  I don't remember if the house was tidy.  But I remember that it was the cosiest, happiest meal I had ever eaten.  I ate more than potatoes around that table, and the aroma, comfort, and flavour of that meal carried me into married life.   I didn't see Diane again, because within a few weeks we had moved clear across the city of Vancouver to South West Marine Drive.  The next time I ate that meal I was a young woman with a university degree, cooking it for my new husband.  What a gift, latkes are to a hungry soul!
Do you have a latkes story?  Leave a comment and tell me a favorite memory of eating latkes.