Cooking from Scratch when it's tough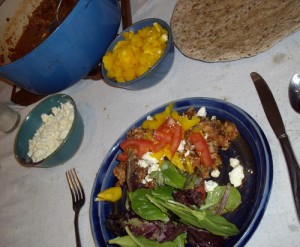 Sometimes your best laid plans get messed up.  Kids get sick, or it takes longer in town than you planned, or you wanted to take advantage of the sunshine for just a few more minutes in the garden.  Suddenly, it's almost 5pm, and you've got a game or a meeting in a couple hours.  It can be tempting when you are pressed for time, to fall back on takeout food, or to run to the store for a frozen pizza.  With a little planning and without extra effort though, you can have a few extra meals in the freezer or pantry to help you through those kinds of days.
When cooking from scratch it helps if you have a few meals that your family enjoys that you can double up on and save half for a day when you are tempted to eat out.  This saves money, and ensures that your family's taste preferences and food sensitivities are taken into account.
Some folks simply make a dish and triple or quadruple the recipe and eat one serving that night and put 3 meals in the freezer for the future.  This is a great plan to stock up the freezer with frozen, made from scratch but ready in 20 minutes kinds of meals.
Another way to do this is to cook a sauce with added meat and then serve it in several ways.  Tomato sauces work well this way.  Here's what I do for my family, by cooking one meaty tomato sauce and then serving it 4 different ways.  If you prefer vegetarian you can substitute lentils for the meat in this dish or even stretch the meat that you have by adding cooked lentils to the sauce.  The lentils are hardly noticed and add fiber and vitamins, too.
4 Meals from one dish
Tacos from scratch (double or triple the recipe, if you like)
1 lbs. of ground meat, lamb, beef, pork, wild game, or llama (or 2 cups of lentils and 5 cups of H20, cooked until softened,)
2 med onions, diced
2 med garlic cloves minced.
1 tbsp coconut oil for frying
1 quart of tomato sauce or 1 small can of tomato paste + 2 cups of H20
½ tsp each, basil, oregano, cumin, turmeric, coriander (optional),
¼ tsp. cayenne,
Brown together meat, onions, garlic.  (Or cook lentils till soft.  Separately fry onions in coconut oil.  Add to lentils along with crushed garlic.)  Add 1 quart of tomato sauce, preferably homemade, or 1 can of tomato paste plus 2 cups of H2O.  Simmer together for 20 minutes until flavours are melded and sauce is reduced by 1 half.
To serve
Tacos: Serve on Gluten-free coconut tacos, flour tortillas, or corn tortillas.
Spanish Rice: Or serve over rice
Spaghetti with spicey meat sauce: Or serve over pasta
Serve in side dishes:  tomato wedges, guacamole dip, lettuce from the garden, homemade plain yoghurt or sour cream, fresh tomato salsa, grated cheese.
On the side:
If you double the recipe of tortillas, take half the tortillas, cut into strips and fry in 1 inch of coconut oil until crisp.  Drain on paper towels.  Serve warm, sprinkled with Celtic salt and salsa.
Nachos the next day:
Make extra and serve Nachos for lunch the next day:
Take the remaining tortillas and cut into 1 inch strips.  Fry in 1 inch of coconut oil to crisp like chips.  Cook a few at a time in a single layer, turning once.  Drain on paper towels.  Once chips are all cooked, pile on a baking sheet.  Spoon on the taco meat in tomato sauce.  Then top with grated cheese; green and coloured bell peppers, diced; tomato wedges.  Broil briefly to melt cheese.  Serve with sides of guacamole, salsa, and sour cream.
Now that you get the idea of making one dish and using it for several different meals, you could try this with other family favorites.  Remember that frozen dinners are made to simulate restaurant meals not home cooking.  Your scratched cook meals don't need to look like restaurant meals, they just need to be nourishing, and tasty.
You can stretch this basic recipe even further
Add red kidney beans or black turtle beans for chili.
Add mushrooms and green peppers for pizza sauce, and spread it over your favorite pizza crust.  Top with mozzarella cheese.
Add ricotta cheese, and mozzarella, and serve over lasagna noodles – you guessed it – lasagna.
You can also make the basic sauce, with meat or lentils, in large quantities when tomatoes are in season, and can it in quart jars in your pressure canner (10lbs pressure; 90 min. for quarts; 75 min. for pints).   Then you'll have it ready to go as you need it – fast food made from scratch, using the wholesome ingredients that your family loves.
#30fromscratch friends
To see more cooking from scratch recipes and ideas look for the hashtag #30fromscratch on Facebook, Twitter, and Google.  Several of my blogging friends are blogging along with me on this challenge of 30 days of Cooking from Scratch.
Kristi at Let This Mind Be In You – Chinese Sweet Peanut Chicken Recipe
Angela at Untrained Housewife – Homemade Fruit Snacks
Heather at Homestead Hippy –   Where to get Jars and Bucket for your Pantry
Be sure to hop over to their blogs and have a look at their creative recipes and tips for scratch cooking.  These posts are just the tip of the riches that you'll find from these experienced homesteaders and scratch cookers.
More resources to help:
Fix, Freeze, Feast: The Delicious, Money-Saving Way to Feed Your Family
Make-Ahead Meals Made Healthy: Exceptionally Delicious and Nutritious Freezer-Friendly Recipes You Can Prepare in Advance and Enjoy at a Moment's Notice
Not Your Mother's Make-Ahead and Freeze Cookbook (NYM Series)
Don't Panic–More Dinner's in the Freezer: A Second Helping of Tasty Meals You Can Make Ahead
Once-A-Month Cooking Family Favorites: More Great Recipes That Save You Time and Money from the Inventors of the Ultimate Do-Ahead Dinnertime Method
The Everything Meals For A Month Cookbook: Smart Recipes To Help You Plan Ahead, Save Time, And Stay On Budget (Everything (Cooking))