Sometimes holiday preparations can feel like you've entered a war zone.  Even getting groceries in December can mean circling the parking lot numerous times just to find a parking spot.  You're in a hurry to pick up a gift, or a few ingredients and the few minutes you had left in your hectic schedule just got eaten up with meaningless waiting.
Your to-do list gets longer by the day, as more people plan events in your schedule that collide with your own plans — Christmas parties, extra choir rehearsals or Christmas Pageant practices, new neighbor gifts, and craft fairs.
Alternatively, this time of year holds stressful memories — high expectations that were unfulfilled, family conflict, alienation, and loneliness.  You'd rather forget the whole thing but the expectations of others create a new layer of potential disappointment.  You look forward to January when this whole thing will be over.  Wait.  There are a few things you can do to keep your sanity and find peace and joy in this season.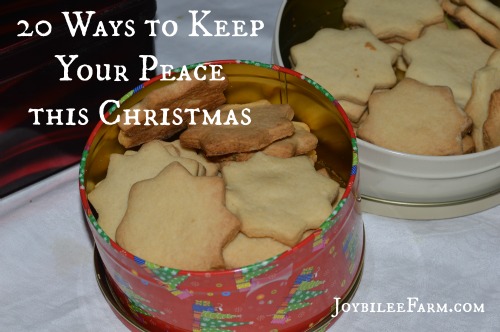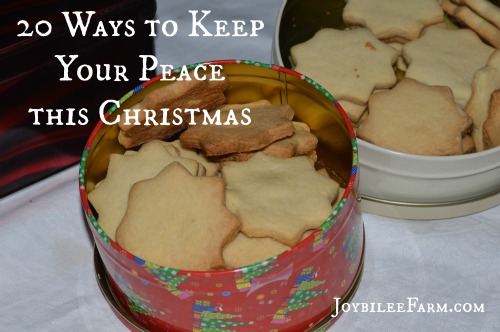 Finding Peace in the hustle, bustle baggage of the season
"Peace on Earth, goodwill to men,"  This is the refrain that softly sings in the background of the bustling season.  When you hear of someone pepper spraying people to defend her right to buy an X-box, it's hard to fathom that the season is about peace.  When you look at your to-do list this week, it's hard to remember that the season is about peace.  When you listen to the news or read your favorite online news source, it's hard to remember that the season is about peace.
Where is the peace that the Christmas Carols promise? There are a few things you can do to take hold of the peace that the season promises and let go of the stress.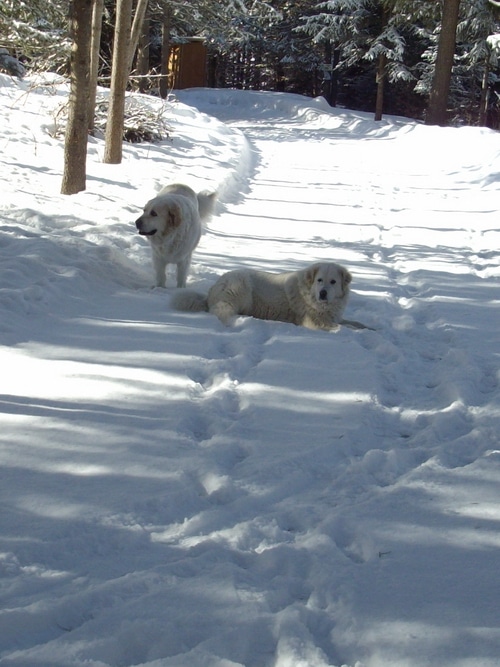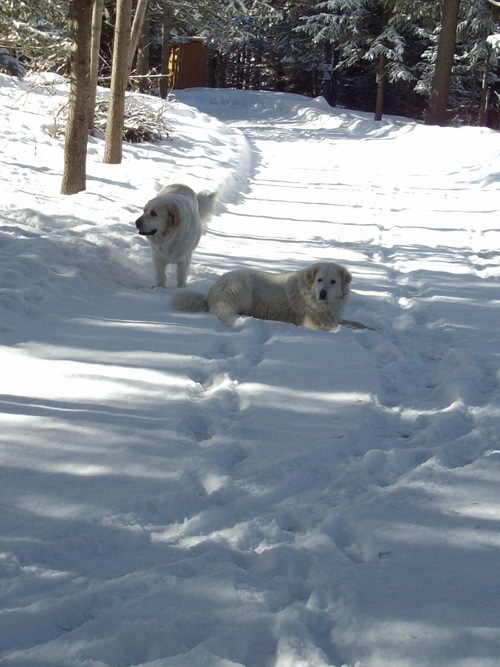 1.  Breathe
Take time to just sit and breathe deeply.  Sit in the car in the parking lot, having circled the lot many times before you found someone leaving.  Just sit in the car, and take 10 deep breaths before continuing on your errand.  That 2 or 3 minutes will reduce your heart rate, your stress level, and your blood pressure.  Allow yourself those minutes to breathe deeply, say a prayer, and you will relax and feel strengthened to carry on.
2. Define the essentials
Make a list of what is essential for you this season, strip away all the extraneous baggage that Christmas has become and focus on the few essentials that bring you peace, joy, and transcendence this season.  One year we didn't put up a tree.  Our eldest child was away for Christmas and the other two were very sad.  Son #2 decided that Christmas wasn't about the tree and we didn't put one up, at his request.  Honestly, I don't remember that Christmas at all.  We didn't take pictures as there was no tree to be the background of the photo.  There was no trekking through the rain to dig up a live tree, no Christmas decorations to provoke memories of Christmases past.  We baked cookies, gave gifts and ate a meal.  There was little clean up with the tree gone, and our daily routine resumed a few days after Christmas.  For me, Christmas wasn't Christmas without a tree.  It was an interesting experiment. We've put up a tree every year since then.
Sometimes you have no control over the essentials and it leads to disappointment.  For me, Christmas is essentially a family time.  But I have no control over my adult children and I can't prevent the disappointment that comes when they don't show up.  What do you do with that?  It hurts.  Even thinking about the future disappointment hurts.  Do you ignore it and push it down when it comes?  Do you ignore the loneliness that is now attached to the season?  No, don't do that.  If you ignore a hurt it festers and you lose your peace.  Instead, acknowledge the hurt and disappointment.  Write it down in a journal, write a poem, draw a picture or a cartoon that embodies the disappointment.  Give the feeling a place, and then ask yourself what you need to do to heal that.  "Lord, help me to accept the things I cannot change." the mantra goes.  Don't stay in the disappointment but move beyond it and you will find peace.
3.  Get Enough Sleep
Life looks a whole lot better when you have enough sleep.  Sometimes the season provokes late-night knitting or crafting vigils to get the gifts made in time.  Especially in the seven days before your holiday, get adequate sleep.  You need your rest to cope with the emotions and stress — even happy, active holidays are stressful, after all.  Ensuring that you wake up refreshed each day will go a long way in keeping your heart at peace.
4.  Eat well
With Christmas baking and Christmas gatherings, being away from home can lead to excess sugar and alcohol, which deplete your body of its reserves.  Take water, vegetables, and fruit along on car trips, plan your meals to ensure that your protein needs are met and reduce your carbohydrate consumption, to control your blood sugar.  Keeping your blood sugar stable will help with stress.
5.  Exercise
It's easy to neglect your daily exercise when you are stressed out with holiday preparations.  But exercise is one of your key strategies for coping with stress.  Exercise releases brain chemicals that help you to relax.  Exercise helps keep blood sugar level.  Exercise makes you feel good.  Go for a walk, put on some music and dance, go out to the barn and shovel manure for 30 minutes — keep moving and you will cope better.
6.  Focus on making memories rather than getting through your to-do list
Include your children and grandchildren in the preparations.  I saw an interesting advent idea yesterday.  It was 24 envelopes, one for each December day before Christmas.  Each envelope had an activity that built the anticipation of the season and helped with the preparations, too.  This woman's sons would open an envelope in the morning, that read "meet me in the kitchen and help make something sweet" for a morning of Christmas baking, for instance.  What a fun way to get through the seasonal to-do list.  Focus on making memories rather than just getting through the to-do list.
7.  Build anticipation
Instead of approaching our to-do list with dread.  Enjoy the journey.  Build anticipation in each preparation step so that the preparation becomes joyful instead of drudgery.  Let go of your perfectionist tendency.  Forget Martha Stewart.  Be yourself.  If the house is a mess of clutter, put a table cloth over it, or grab a basket and squirrel it away until January.  Don't let self-condemnation get in the way of the joy of the season.
8.  Pare down your gift list for bought gifts. Avoid going into debt
Decide again that you will not go into debt this year. Pare down the things that you have to buy to make the holiday special.  Say, "No" to some of the charity appeals, so that you can say, "Yes" to what's important.
Can you barter for what you can't make yourself?  Can you buy the turkey with points instead of cash?  Can you exchange service for cash to give you some extra coins for your holiday? That's what the Christmas craft circuit is about for some people.
9.  Give simple homemade gifts on a theme
Simplify your gift-giving by making many versions of the same gift.  Gifts in a jar are a great example of this strategy.  Line up the jars that you are recycling, and fill them on an assembly line.  In an hour you can have 10 simple gifts ready to wrap, using this strategy.
Make lip balm, sugar scrubs, candles, chai tea, or even wood conditioner.  These are gifts you can make a bunch of in one sitting and have several to gift.
10.  Observe the faith traditions of the season
The holidays are essentially religious holidays steeped in many faith traditions.  As you simplify your season remember to include the parts of your own faith tradition.
Is Christmas caroling at the Rest Home important in your traditions? Write it on the calendar.  Is lighting the Hanukkah candles important to you? Make it the focus.  And in the midst of the religious observance breath deeply and take strength from God and from your faith.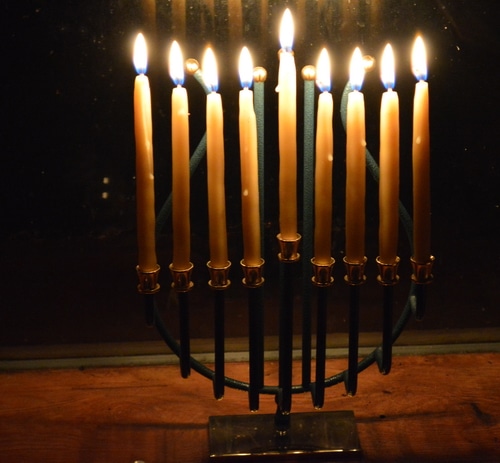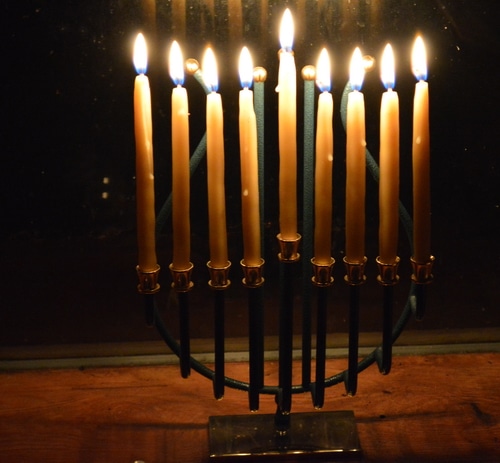 11. Focus on building memories not buying gifts
Take time to build your own memories as well.  As a parent, I have often been so focused on building happy memories for my children that at the end of a holiday, the event held only a blur and a dissatisfaction for me.  It's important to take a few hours to build your own memories, as well.
If you love Christmas lights but no one else in your family is into them, go for a drive by yourself to enjoy them.  If you love listening to Handel's Messiah but the rest of your family prefers country rock,  get a ticket to Messiah, dress up, and go to the concert by yourself, or find a friend to go with.  Building your own memories can make a difference, rather than feeling that the holiday is one big sacrifice, you can feel satisfaction and inner peace.
It's not selfish to meet your own needs.  If you don't meet them, I guarantee no one else is going to think it important enough to try.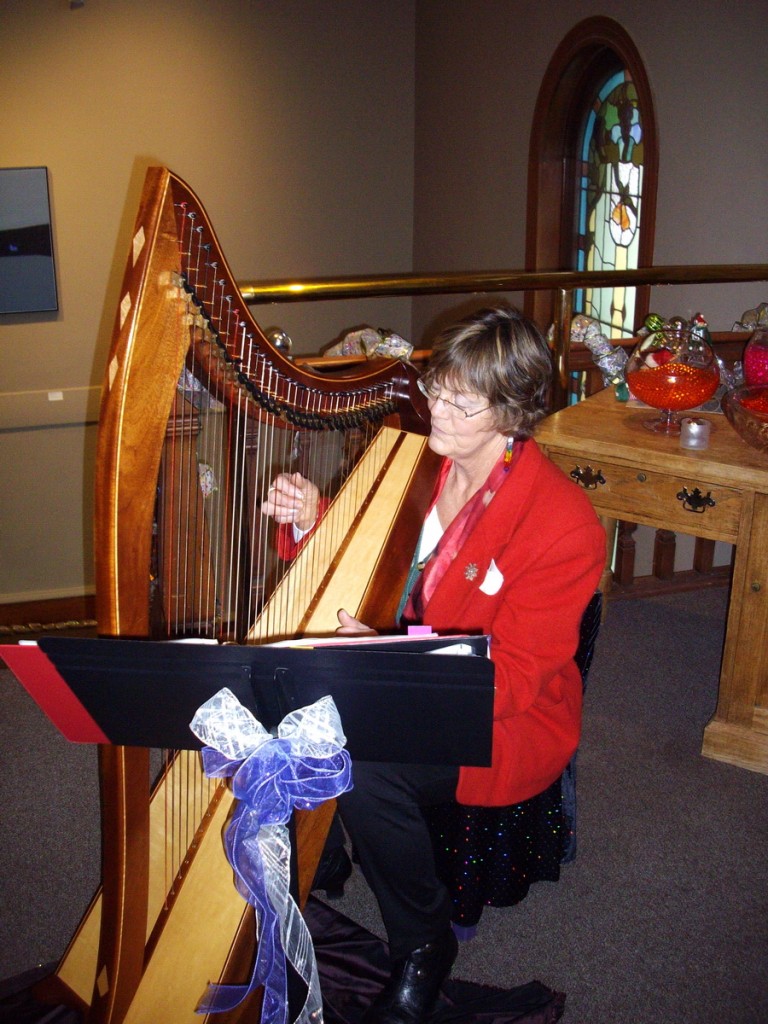 12.  Surround yourself with music
Listen to Christmas music.  Put it on while you clean the house, make dinner and do crafts.  Sing along.
Studies have shown that listening to Christmas music decreases anxiety, reduces heart rates, and lowers blood pressure.  I don't do this enough.  I've been trying to cultivate this into my time this year.  Last year I bought 3 Christmas harp music CDs and I've been listening to them a lot this week.
13.  Find someone to bless and lose yourself for a day by making a gift for them or serving them with your time; create a new holiday tradition
There are many charity appeals that scream out for attention at this time of year.  The poor are needier when the cold weather comes.  The poor around the world make their appeals at this time of year, too.  The Salvation Army Kettle Drive and the Food Bank and the Christmas Hamper appeals all ask for a portion of your December budget.  Maybe its already as tight as it can get, and you feel guilty saying, "No".  Surely you can spare a penny for the "poor man's hat".  But you don't need to feel guilty.  Pick one charity, or one family, or one person, and focus your holiday charity in that direction.
Giving money is easy, volunteering your time is priceless.  Create a gift for one person or one family.  Involve your children in the activity and teach the invaluable lesson of loving and giving. Giving of yourself is more satisfying, and more difficult,  than tossing a coin in the kettle.
14.  Keep the essentials of your holiday traditions and throw out the rest
Did you make that list of what's really important to you this Christmas season?  Have you crossed off the list the things that you cannot change that are a disappointment?  What's left? Cultivate that. Let the rest go.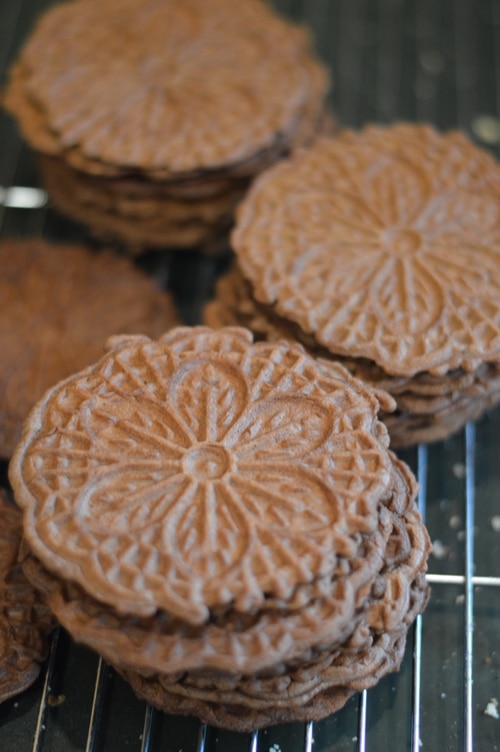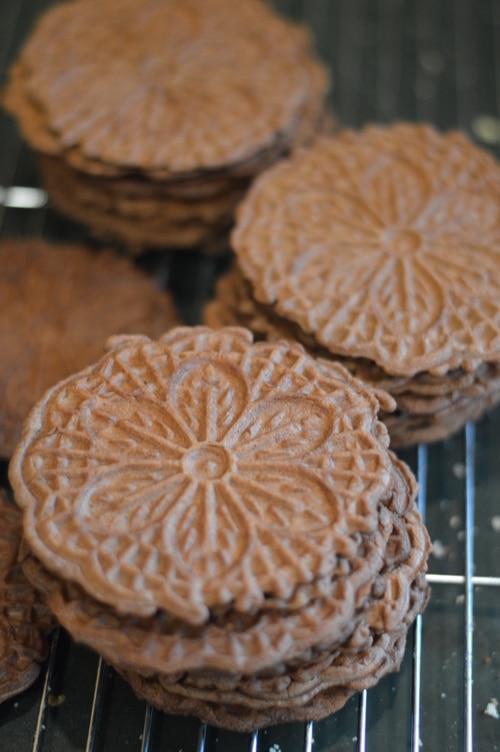 15.  Turn off the TV
Get rid of the Christmas DVDs, turn off the TV, stop listening to commercials that suggest what Christmas should look like, and remake the Christmas that you need, to cultivate your spirit, feed your soul, and give you the transcendent peace that the season offers.
16.  Nurse your disappointments by refocusing your "giving" and "loving"
When we have high expectations we are bound to feel disappointment.  When I was a child, I anticipated Christmas and I was often disappointed.  My parents were divorced and I never saw my father on Christmas.  My mother and stepfather often showed up drunk, at the end of Christmas Day and I spent the morning alone, waiting for Christmas to start and wondering where my parents passed out on Christmas Eve.
Now, as a mother and grandmother, I hope to see my children and grandchildren on Christmas Day but my children don't consider my needs in their plans.  I could cry myself to sleep with the bitter disappointment, or I can move on and find another life to invest my love in.
Many people are lonely at this time of year.  Do you have a friend that will be spending Christmas alone?  Include them in your family traditions.  Volunteer at a retirement home for the day, many old folks are lonely and could use a visitor on Christmas Day.
Attend the community Christmas Dinner and visit with people over coffee.  Spend the day by serving others and your own disappointments will come into perspective. It is rare to find a fully functional family and Christmas (or your holiday tradition) holds pain and disappointment for most people. Decide now what you need to do to refocus and gain perspective and include it in your plans.
17.  Make yourself a gift and wrap it and put it under the tree
As a prolific crafter, I spend my December days making gifts for others.  As a professional artisan, I sell my own work to make my living. Very rarely will one of my own works find its way into my home. Take one special thing that you are creating this season and wrap it up for yourself.  Put it under the tree with your name on it. Give yourself the gift of your own creativity.
18.  Make your own music
One of our traditions has been to make a concert for the family on Christmas Eve. Sarah is still into it, but my older sons aren't interested.  For me, part of the exercise is the daily practicing and the journey of learning new Christmas music, reciting a Christmas poem or a story from the Bible. This practice, memorization, and performance enhance inner peace by focusing your attention on something besides painful memories and negative thinking.  Your mind is entirely focused on one thing and this offers peace.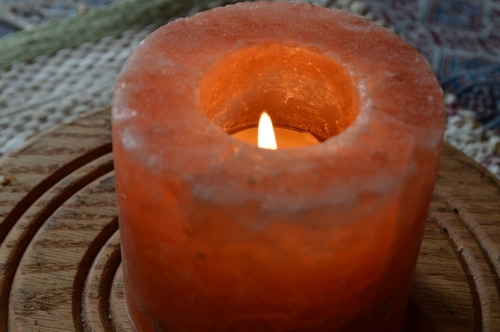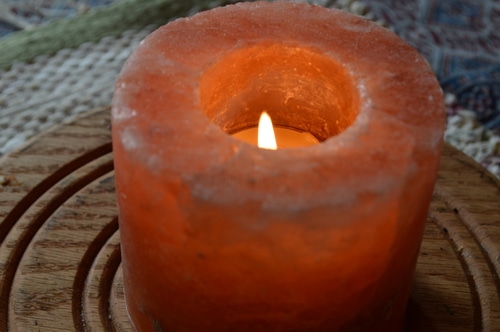 19.  Worship
Don't neglect worship in your busyness. In worship, your mind transcends the every day to-do list and you open yourself up to being known by the God-who-knows-you.  Worship offers you peace, creativity, joy, and transcendence.  In worship, you let go of the control.  You are transformed.  Have you worshipped lately? Try it this Holiday.
20. Cultivate your art
Your art doesn't need to be put on hold while you make preparations for Christmas.  Enlist your art in your preparations.  Do you love to paint?  Include painting in your holiday traditions.  Do you love to spin and weave? Use it to create your holiday gifts or deck your halls.  Is writing your genre?  Integrate writing into your holiday gifts and preparations.  The "zone" that we get in when we create our art, enhances inner peace and defines the specialness of the holiday season.
Your Turn:
By embracing a few of these 20 suggestions you can transform your holiday preparations from a war zone to a peaceful oasis in your day.  Which one are you going to try this year?  What strategies do you use to find peace in the season of Peace of Earth?  Leave a Comment.