Print ads don't work like they used to
Get your brand or product in front of Joybilee Farm's engaged readers for less than the cost of a newspaper ad.
I know how hard it is to get traction with print ads. As an agritourism destination we've budgeted thousands of dollars on print ads in magazines, and newspapers. But the reality is, that print advertising doesn't have the same ROI that it used to. Your customers are on the internet. And if your brand isn't on the internet, too, you are losing out to your competition.
The biggest driver on the internet is actually word-of-mouth. Hard to believe, just like in-person sales, the best advertising on the internet is still one person telling their friends. My readers are looking for product recommendations and brand awareness from someone they trust. And as money gets tighter, that trusted product or brand recommendation becomes even more important.
It starts with trust
I've been online since 2004 and I've been blogging since 2007. That's a lot of trust building, the slow way, one post at a time, week by week, year by year. I hold this trust in high regard. I won't bring just any brand into this relationship with my readers. However, there are some brands and products that I think will benefit my readers so much that I'm delighted to introduce them.
If you have a brand or product that appeals to families who care about organic food, organic gardening, sustainable lifestyles, alternative medicine, and a DiY mindset, you'll find an engaged audience for your message at Joybilee Farm.
Joybilee Farm readers are:
Educated, with many holding advanced degrees
Technologically savvy
Informed
85% are female
60% are between 35 and 64
80% are American
Their interests include:
Scratch cooking
Food preservation, canning, dehydrating, pickling, and jamming
Organic gardening/organic farming
Permaculture
Herbal remedies
Sustainable house building
Off grid living
DiY projects and artisan crafts
Reading and Research
Animal husbandry
Emergency preparedness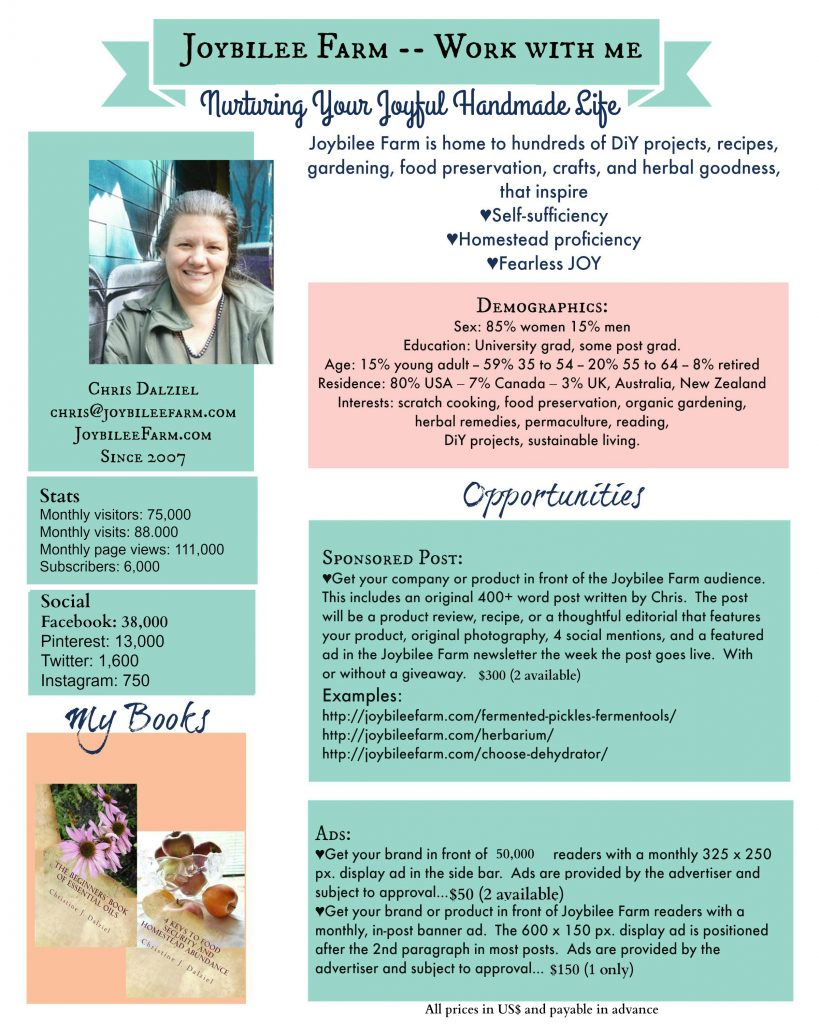 Can we work together?
There are just 5 opportunities for you and I to work together each month.
Sponsored Posts:
Sponsored posts are the most effective way to engage the Joybilee Farm audience. Sponsored posts can be product reviews or brand awareness campaigns that introduce the Joybilee Farm audience to your special product or your brand.
Sponsored posts are original 400 to 600 word blog articles that offer a product review or introduce a brand to the Joybilee Farm reader. They may include recipe development, or a highlight of the brand's strengths in relationship to the goals of sustainable, organic living that are important to my reader.
Sponsored Posts also get:
A minimum of 4 social shares
SEO optimization to ensure that the post has search engine traction.
Highlighted in the weekly newsletter
A brand or product ad in the weekly newsletter, going out to 6,000 readers
The option of sponsoring a giveaway, for greater brand awareness
No other advertising on your post, so that your product or brand is the only message
In order to do an honest product review, product samples must be received at least 4 weeks in advance of the scheduled post date. If the sponsored post includes a request for recipe development, please include enough of the product that the recipe can be tested 3 times, and there is enough product left for photoshoots.
There are 2 opportunities each month for sponsored posts on the Joybilee Farm website — 24 per year.
Examples of Sponsored Posts:
Herbarium from the Herbal Academy of New England
Display Advertising
There are two dedicated display advertising slots available for select brands. All ads are subject to approval and prepaid in US$.
The best deal:
Get your brand in front of the eyes of 75,000 to 100,000 readers, each month with a 600 x 150 px. display ad. This ad is placed after the 2nd paragraph in most posts. Even mobile users will see this ad if they have not shut off ads on their device.
The ad is subject to approval. The ad is provided by the advertiser at least 2 weeks before the 1st of the month in which the ad appears. (1 opportunity at this level)
A modest ad:
Get your brand in front of the eyes of 30,000 to 40,000 readers each month with a 325 x 250 px. side bar ad.
40% of Joybilee Farm readers visit the site from their desktop. This is the portion of the Joybilee Farm audience you will speak to with your side bar ad. The sidebar ad is a good opportunity to introduce a monthly special, or a new product that will catch the eye and engage the curiosity of my readers. Products that do well with a side bar ad include books, courses, and special offers.
The ad is provided by the advertiser at least 2 weeks before the 1st of the month in which the ad appears. (2 opportunities at this level).
Want to talk more about these opportunities?
Download my Media Kit (pdf)
Contact me and we'll set up a phone call to explore how I can help you get a better impact with your advertising budget, through one of these advertising opportunities.
Chris Dalziel
Joybilee Farm